We are glad to offer you now also a lane assistant in NUNAV Courier.
We have now been able to implement the long-cherished wish of our users and extended NUNAV Courier.

The lane assistant shows you early the lane you should take for the next turn. In this way, we would like to provide you with assistance so that you can get into your lane early and reach your destination without stress. This means that NUNAV is now also improved for use on multi-lane roads.
Please note:
The lane assistant is currently being tested and may therefore be faulty. Furthermore, it cannot be ruled out that we do not yet have the appropriate information regarding the current situation in all places.
In case of doubt, please always rely on the signage on site!
How do I activate the lane assistant?
Since our lane assistant is currently still in the testing phase, it is not activated by default. Therefore, you have to activate this function manually.
Activation is done by following the steps below:
Call up the settings menu.

If navigation is active, you can access the menu via the gear wheel at the bottom of the screen.
If you do not have the navigation active, please use the gear wheel at the top of the screen next to the search function (magnifying glass).

You are now in the quick settings. Please select now "further settings
Scroll to the menu "Experimental functions" and activate "Lane assistant" by using the slider. You can recognize the active lane assistant when the slider is colored blue.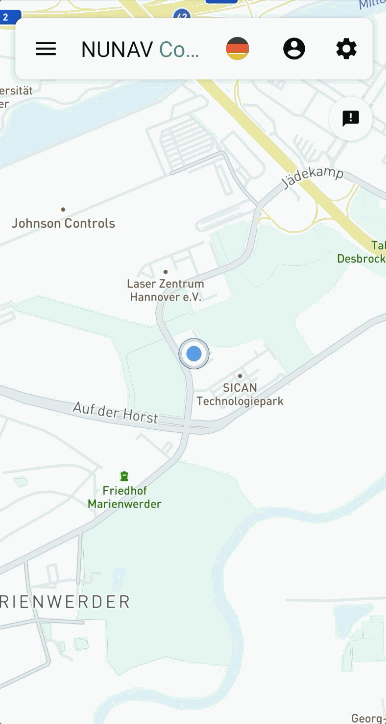 How can I improve the lane assistant?
You are welcome to help us with feedback to further improve the lane assistant. We appreciate every single feedback.
To make it as easy as possible for you to give us feedback when using the navigation and to keep you focused on the traffic, we have included the following feedback function:
If you notice an anomaly or incorrect information, please tap on the lane assistant icon. This will provide us with feedback on that location and allow us to verify the conditions. This transmission is anonymous.

Of course, you are also welcome to send us feedback using the map feedback or via our contact form.